A n d r e w H a l l i f a x
RECORDING & PRODUCTION
The designation, Acoustic Music Location Recording Engineer & Producer is admittedly a little long-winded but it does at least describe what I do rather better than the more common moniker, technician. Admittedly, the most overt aspect of my job is indeed technological and, with the widespread use of computers, more than a little nerdy.
But technology provides only the tools of the trade. The craft – which is less open to straightforward, quantifiable, reductive analysis - concerns the more elusive, interrelated imponderables of record production - acoustics, musical performance, and human interaction.

Most classical music recording takes place on location – in churches, halls, theatres and barns, indeed, wherever the acoustics and environmental circumstances are conducive. So whether I am engaged by a record company, an ensemble or an independent musician, it's for me, the engineer, to ensure that the necessary equipment is prepared and transported to the recording location. As each situation is different and each recording unique the equipment is selected specifically for each project.

An extensive list of my recordings can be found in the discography section of this website.
If you'd like more information, or to discuss a recording project, please send me an email.


AUDIO RESTORATION & DIGITISATION
Beyond my production work, I also transfer, restore and digitise 78rpm records - or shellac discs as they are sometimes known. In both the literal and figurative senses of the word, these are records that documented musical performance for a longer period than any other format; the CD, by comparison, seems unlikely to survive half as long. Yet as historic artefacts, shellac discs today are largely neglected.
I transfer and digitise these old recordings; for commercial release, for archiving, and for academic research purposes.

____________________________________________

Andrew Hallifax is the author of the Classical Musician's Recording Handbook. From 2007-2009 he was the transfer engineer for CHARM (Centre for History and Analysis of Recorded Music), a musicological research project based at King's College London. An interview about his approach to the project appeared in the Winter 2008 edition of Classic Record Collector. The article is made available by clicking on the image below.

Andrew was appointed Visiting Research Fellow at King's College London in September 2017.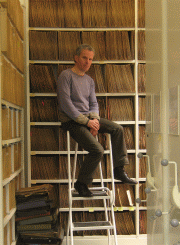 (Patmore, David. Classic Record Collector 14, 58-61 (2008).
With the kind permission of Alan Sanders
Copyright Andrew Hallifax 2010